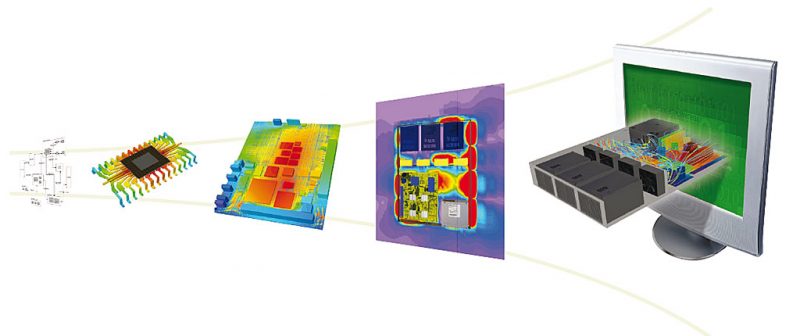 Category: Thermal Cooling for Electronics and Fluid Mechanics
Electronics cooling software from the leader in electronics thermal analysis. The powerful FloTHERM® suite of 3D computational fluid dynamics (CFD) software predicts airflow and heat transfer, in and around electronic equipment. FloTHERM delivers right-by-design products that save design time and reduce the need for physical prototyping from components and boards to complete systems and data centers.
Thermal Integrity Analysis:
Expedite System Model Creation with SmallPart Library
Robust Industry-Standard CFD Engine
Automated Parametric Design Optimization
MCAD Imports (NX, SolidWorks, STEP, IGES, Catia,…)
ECAD Import (Allegro, Xpedition, PADS,…)
Powerful Result Visualization w/Particle Flow Analysis
The FloTHERM Suite is comprised of:
FloTHERM – established over 25 years and the flagship tool for electronics cooling simulation
FloTHERM XT – a CAD enabled electronics cooling simulation tool built to be truly part of the product design process
FloTHERM PACK and FloTHERM IC – solutions for package-level model and metric creation, whilst FloTHERM PCB excels at automating PCB-level thermal design.
FloTHERM has more installed seats than all other electronics cooling CFD software. For over 25 years FloTHERM has supported a huge customer base, including almost all the major blue-chip electronics companies in the world. FloTHERM supports chip, package, board and system design, and even extends out to datacenters. It is designed as a vertically-specialized solution for the electronics thermal market through its innovative SmartPart technology, extensive libraries, tailored and stable solution technology, state-of-the art compact thermal modeling techniques and parametric analysis & optimization functionality. FloTHERM features advanced interfacing technologies for working with EDA data from Mentor Graphics, Cadence and Zuken and is backed by a family of ancillary solutions for PCB (FloTHERM PCB) and package modeling (FloTHERM PACK and FloTHERM IC).  See more on FloTHERM
FloEFD is a general-purpose CFD code capable of analyzing a wide variety of fluid-flow and heat transfer phenomena across various industries and applications. It is unique in that it is available as an embedded solution for most popular MCAD systems, and thus fully integrates into mechanical design engineering workflows. For electronics applications, FloEFD's Electronics Cooling Module offers a subset of thermal simulation capabilities tailored for mechanical design engineers who encounter electronics cooling alongside other design challenges in product development; and require some capabilities to reside inside their MCAD design environment for consistency and productivity reasons.
As part of a large engineering process, Simcenter FLOEFD can also tightly couple with FLOMASTER (the leading system level thermo-fluid simulation tool) for when more detail is needed for a given component and with other system level tools through Functional Mock-up Interface (FMI) for total system of system analysis. See more on FloEFD…

FloTHERM® XT, like FloTHERM, has been designed from the ground up as a full-scale, vertical solution with a customized GUI and focused functionality appropriate for electronics thermal applications. Building on FloTHERM's ethos and success, and FloEFD's meshing and solver technology, FloTHERM XT supports the SmartPart and Library functionality that first evolved in FloTHERM, but brings a CAD-centric approach to thermal engineering through its best-in-class CAD connectivity and advanced CAD modeling capabilities. It also features advanced EDA interfacing technologies. FloTHERM XT offers seamless simulation capabilities for all stages of the mechanical design process (concept, architecture, detailed optimization & verification). It enables a true integration between EDA and MCAD design flows, through
concurrent engineering simulation, and extends our reach in addressing the needs of a rapidly evolving electronics thermal sector. See more on FloTHERM XT…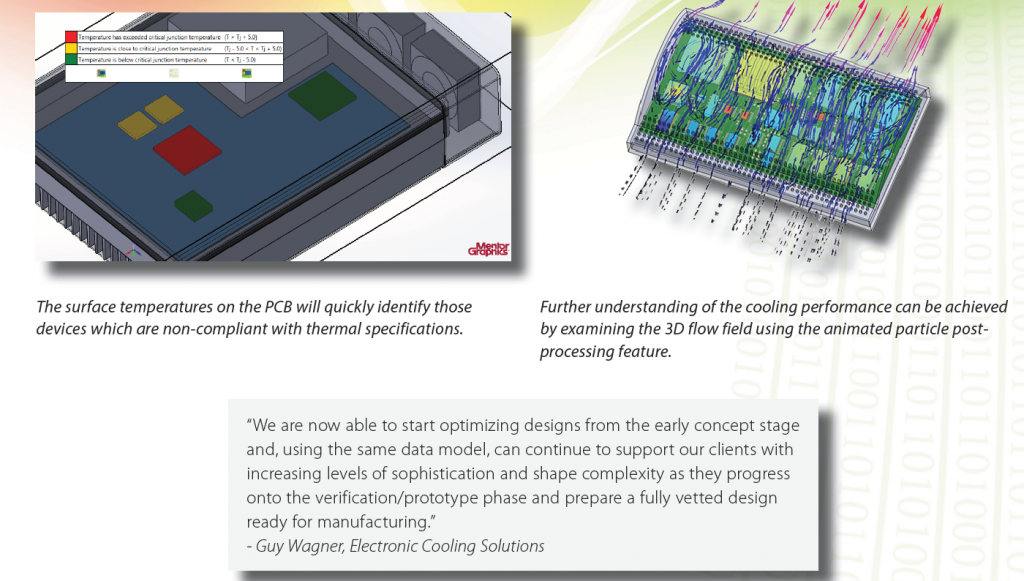 FloTHERM® PACK / IC is a unique, web-based solution that easily generates reliable, accurate thermal models of IC components, test boards, standard test harnesses and other associated parts 20 times faster than conventional approaches. Inbuilt design intelligence will make realistic assumptions about unknown package parameters.
Generate state-of-the-art detailed and compact models of your IC components. Share and archive thermal libraries within your organization using our unique workgroup features. Once defined, detailed 3D thermal IC package models, 2-Resistor or DELPHI compact thermal models can be downloaded in standard .pdml format for use in FloTHERM®, FloTHERM® XT or FloTHERM® PCB.
With more than 30 IC package families supported, users can parametrically specify a package design with only a few clicks. See more on FloTHERM PACK..

FloTHERM PCB is a unique, radical software program for streamlining concept development of printed-circuit boards (PCBs), while ensuring good thermal design and accelerating the PCB design process. FloTHERM PCB facilitates collaboration between product marketing, electronic engineers and mechanical engineers on PCB design, particularly during the conceptual phase of the design process. See more on FloTHERM PCB…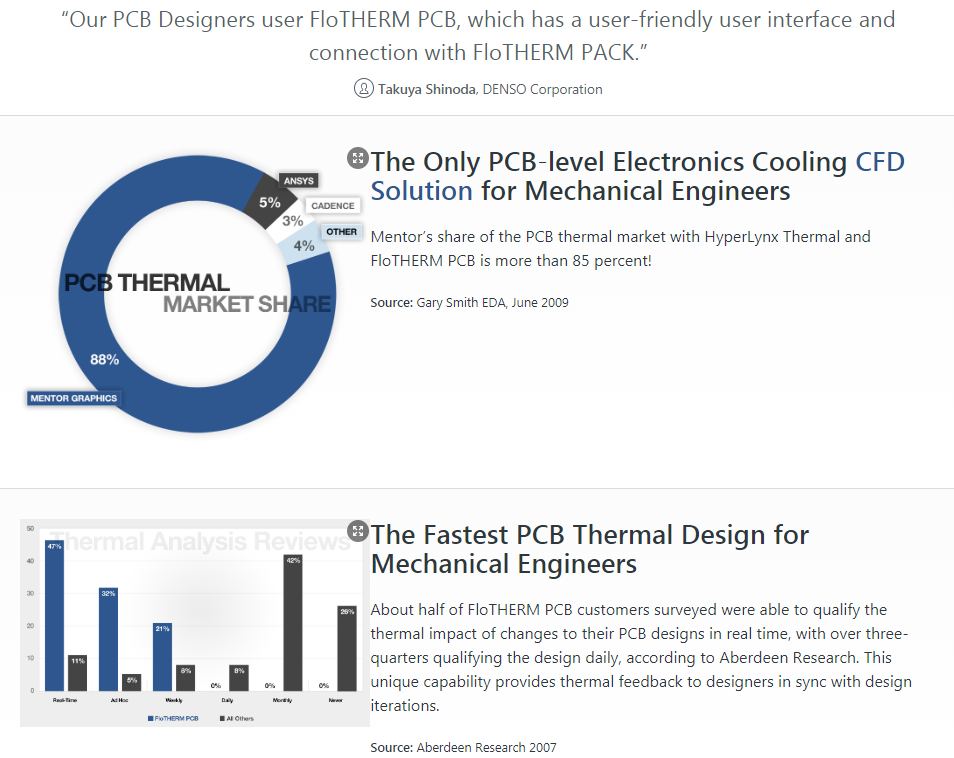 Flotherm Flexx gives you the best of both worlds – Flexx licensing allows companies to use FloTHERM and FloTHERM XT to solve electronics cooling design challenges.  FloTHERM, the solution for electronics thermal market offers innovative SmartPart technology, extensive libraries, state-of-the art compact thermal modelling techniques and parametric analysis and optimization functionality. FlothermXT is a CAD-centric approach to thermal engineering through CAD connectivity and advanced CAD modelling. It can be used from concept design including advanced to advanced EDA interfacing technologies.